Canimed About
Bedrocan
Bedrocan is an EU-GMP certified supplier of pharmaceutical grade cannabis to the Dutch Office of Medicinal Cannabis (OMC). Our high quality products are used as pharmaceutical raw materials and active pharmaceutical ingredients (APIs). We operate two indoor cultivation facilities and an R&D facility in the Netherlands.
As of Summer 2021, Bedrocan flower will be imported into the UK and Bedrolite produced here removing the need for Dutch authorities to accept UK prescriptions post Brexit.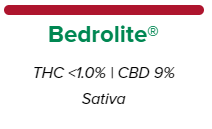 Introduced in 2014, Bedrolite® is the brand name for the cultivar Cannabis sativa L. 'Rensina'.
Cannabis sativa L. 'Rensina' is a so-called CBD-only product, with less than 1% THC and 9% CBD. Due to the extremely low levels of THC, it has no intoxicating properties. Bedrolite® has become the preferred choice of a number of patients with severe, intractable (untreatable) forms of epilepsy.
Carrier: Peanut *allergens removed
Extraction Method: CO2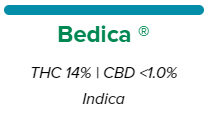 Introduced in 2011, Bedica® is the brand name for the indica cultivar Cannabis sativa L. 'Talea'.
Cannabis sativa L. 'Talea' was developed in response to mounting evidence of a real difference in the effects of sativa and indica types.
Characteristic differences between indica and sativa cultivars can be found in the presence of aromatic compounds (terpenes) in the plant. Bedica® contains a high amount of the myrcene terpene, which is known to have a calming effect.
Bedica® contains 14% THC with less than 1% CBD.
Bedrolite COA
Bedica COA