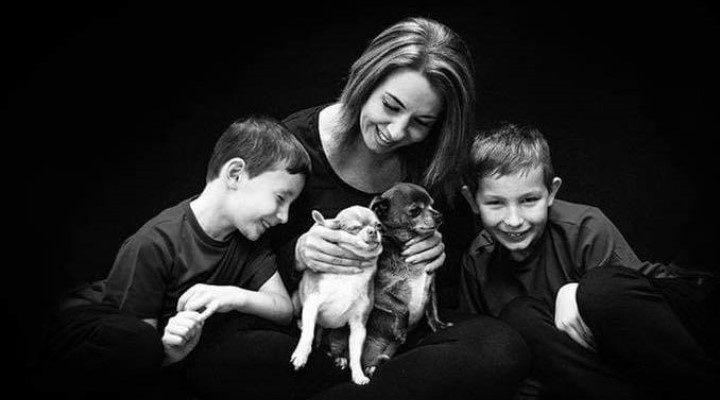 I am Lisa mum of two beautiful boys Dylan age 10 and Cole age 8. Cole was born on 26 July a healthy 8lb 10oz baby boy, unfortunately at only 3 months old he took his first seizure in my arm's and was quickly diagnosed with focal epilepsy caused by damaged tissue on his left temporal lobe also known as Cortical Dysplasia.
That first year was full of tests, appointments and trying different medications sometimes 3 at the same time to try stop his seizures but nothing worked. When Cole was 1 year old we were told he was drug resistant and his only hope for a seizure free life was brain surgery.
After numerous tests in Glasgow children's hospital, Edinburgh Sick Kids Hospital and Evelina Children's Hospital in London it was agreed Cole would have brain surgery. A leisionectomy was performed on Coles left temporal lobe in November 2014 when he was 2 years old. Post surgery Cole was seizure free for 6 months however his seizures returned devastating me and the rest of our family.
From the age of 3 we tried a number of medications but none helped for longer than a few weeks before his seizures became more frequent and began affecting him physically and emotionally. In June 2018 I posted on social media asking for alternative options that may be available to Cole anywhere in the world as we were told the UK doctors had no more options for Cole other than a second surgery which had a high chance of leaving him partially sighted and paralysed down the right side of his body. This is where my search for the best Cannabis based medicine started for Cole.
As a former police officer for 10 years my opinion of cannabis oil was very negative believe it to be the demon drug it's still portrayed to be today. I began researching looking for evidence that this plant was dangerous to back up my beliefs however I've yet to find any such evidence. All I found was incredible and life changing stories mostly by other parents in similar positions to mine with Cole. Hannah Deacon mum to Alfie, Danielle & Darren parents to Sophia and Callie Blackwell's story about her son Derryn gave me goosebumps.
I took this information and asked Coles consultant however he dismissed me and told me it was online propaganda and I had to stop this nonsense or Cole would deteriorate and could die. I was talked into speaking to the surgical team at Edinburgh about a second more dangerous surgery.
When I met with the team they explained before surgery was even an option they have to carry out a test on Cole which would involve a robot drilling over 10 holes into Coles skull and insert electrodes deep into his brain where they'd stay for a week. After this he would be left 6 months to heal and if surgery was an option they'd open his head up again to remove more of Coles brain. When the conversation turned to possible outcomes none were positive, all were unknown and extremely high risk. The rest of the meeting was a bit of a blur but I knew then that surgery was not an option for Cole and I wasn't ready to give up on him, sign a form that would put my son in a wheelchair when he was able to ride a two wheeler bike I just couldn't.
Thankfully the online support from other parents and families helped me find a route to access cannabis oil for Cole. In October 2018 Cole began suffering Todd Paralysis after every seizure which was like him having stoke symptoms following his seizures. He would struggle to move, talk or even lift his head. This could last from 30 minutes to a few hours.
This is when I tried Cole on his first oil which was MyCBD 10% and was recommended by a doctor in Barcelona. Within a few days of taking it Coles todd paralysis was gone but his seizures continued. Due to my campaign for Cole to access Cannabis oil through NHS Scotland being on social media, newspapers and on TV I was contacted by Glasgow Children's Hospital and told Cole was one of 5 children in Scotland who would be prescribed the only cannabis based medicine by the NHS named Epidiolex.
For him to begin this he would have to gradually come off the oil I had been buying him. When Cole stopped his MyCBD after a week his Todd paralysis returned and even while he was taking Epidiolex he continued to deteriorate until he was unable to walk, talk, lift his head or eat. Cole was confined to a wheelchair and on a liquified diet within 3 weeks of starting Epidiolex. Due to Cole becoming so ill so quickly he was admitted into hospital in March 2019 where he was unresponsive.
The medical team carried out a number of blood, urine, CT scan, MRI scan, lumber puncture and EEG but there was nothing showing why this was happening. I had made a decision I was going to Holland with Coles medical records to meet with a doctor on the hope he would prescribe Cole a medical cannabis oil I'd heard so many positive stories about called Bedrolite. I knew I'd have to bring it back into Scotland illegally but my son was dying I had no choice.
The doctors around Cole were against this cannabis oil because of guidelines set out by BPNA so I had to do it behind their back and against their advice. My trip to Holland was successful and I returned with Bedrolite, I started Cole on this immediately while he was still in hospital and within a few days he started to improve. Cole was micro-dosed which was a tiny amount only increased every few days til we found the best for him.
For Cole this was when he was seizure free. From April 1st Cole was seizure free, by 11th April Cole began standing on his own and by the end of April Cole was running and talking. I had my boy back!! Since 1st April 2019 Coles had one 30 second seizure on 11th August 2019 and after increasing his Bedrolite cannabis oil slightly he continues to be seizure free.
We will celebrate his first year seizure free on 12th August 2020 (in 5 days time). Whole plant cannabis oil has given Cole the chance to live his best and I will be forever grateful.